---
Here you will find both brief and detailed synopses of several original plays......
Some are tried and tested in many productions,
some offer the challenge of creating the very first production,
some are funny, some are sad,
some are shorter, some are longer,
some give food for thought -
and some are just pure entertainment!
(P.S. Some - it has to be said - are better than others...... At least I'm honest)
There have been a total of over 140 productions of these plays
---
To view details of play scripts................

To learn a bit more about who I am.......

To see production photographs..............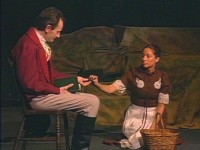 To view copyright and royalty details .....

To view links to other related Web Sites LINKS
---
A few of the plays have been written specifically with the limited resources of some amateur companies in mind, but others offer material, subjects and theatrical challenges for the professionals or the more adventurous amateurs.
The shorter scripts you can view in their entirety as web pages.
For longer plays there are sample scenes to read.
You can read more detailed information on each play via the

link.
You can view the on-line scripts and sample scenes via the

link.
You can usually save pages for reading at leisure or printing off -
by using the File and Save As menus on your web browser.
This website is under construction - more titles, synopses, and sample scenes will become available in the near future.......... Watch this space.
Site last updated 14-04-13, Alistair Faulkner
To contact me by e-mail....... info@alistair-faulkner.co.uk